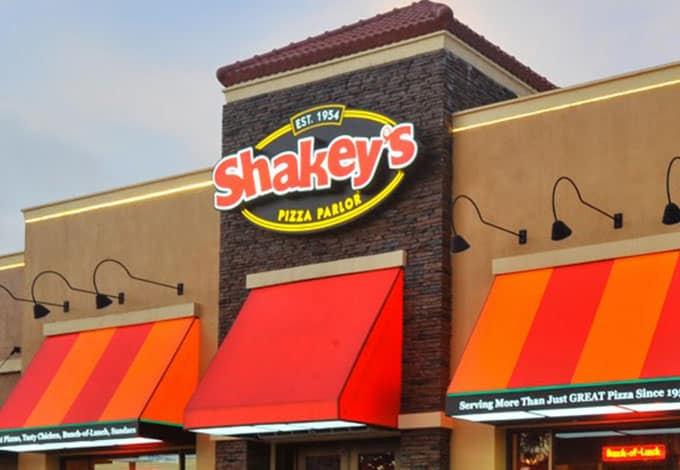 Shakeys Pizza is one of the most popular pizza restaurants in the Philippines. They make amazing pizza and chicken and have a range of pasta and group meals as well.
Here is the latest Shakey's menu with prices:
Menu Item
Price

Pizza

Lousiana Shrimp Pizza
₱350.00
Apple Crumble Pizza
₱152.00
Smoked Salmon Pizza
₱350.00
Angus Burger Pizza
₱350.00
Scallop Primo Pizza
₱350.00
Cheesy Chick'n Pizza
₱350.00
Texas Chicken BBQ Pizza
₱350.00
Belly Buster Pizza
₱350.00
Firehouse Pizza
₱350.00
Angus Steakhouse Pizza
₱350.00
Friday Special Pizza
₱350.00
Manager's Choice Pizza
₱290.00
Hi-Protein Supreme Pizza
₱290.00
Pepperoni Crrunch Pizza
₱290.00
Pizza Bianca
₱290.00
Pepperoni Pizza
₱280.00
Garden Fresh Pizza
₱280.00
Hawaiian Delight Pizza
₱280.00
Classic Cheese Pizza
₱200.00
Garlic & Cheese Pizza
₱280.00
Shakey's Special Pizza
₱290.00

Slam Pizzas (18-inch)

Grand Slam Pizza
₱839.00
Super Slam Hawaiian Delight
₱713.00
Super Slam Pepperoni Pizza
₱713.00
Super Slam Classic Cheese Pizza
₱661.00
Super Slam Garlic & Cheese Pizza
₱661.00

Group Meal Deals

2019 Meal Deal (10pcs Chicken N Mojos, 2 Large Thin Crust Pizzas, 2 Spaghetti Platter, 1 Tuna Caesar Family Salad, 2 1.5l Coke, 1 Large Thin Crust Apple Crumble Pizza)
₱2119.00
777 Deli Deal (Manager's Choice Party Size Thin Crust, 5 Pcs Chicken N' Mojos And 1 Serving Of Mozzarella Cheese Sticks)
₱777.00
Family Meal Deal 1 (1 Pizza, 1 Side, 1 Drink)
₱999.00
Family Meal Deal 2 (1 Pizza, 2 Sides, 1 Drink)
₱1749.00
Family Meal Deal 3 (1 13" Pizza, 2 Sides, 1 Drink)
₱2099.00
Monster Meal Deal (2 Large Crisp Brick-Oven-Baked Pizza: Manager`s Choice And Pepperoni Thin Crust; 2 Platters Of Rich And Flavorful Pasta: Classic Spaghetti & Carbonara Supreme; 1 Awesome Twosome 12 Pieces Chicken)
₱2999.00

Chicken N Mojos

3 pc Solo Pack
₱359.00
5 pc Buddy Pack
₱559.00
7 pc Family Pack
₱759.00
12 pc Party Pack
₱1259.00
20 pc Blowout Pack
₱2099.00
Mojos Supreme
₱451.00
Basket of Mojos
₱331.00
Mojos N Dip
₱163.00

Pasta

Black Seafood Pasta
₱276.00
Skilletti
₱209.00
Bacon & Cheese Pasta
₱227.00
Carbonaro Supreme
₱227.00
Prima Lasagna
₱238.00
Baked Italian Sausage Pasta
₱239.00
Shrimp Aglio Olio
₱276.00
Monster Spaghetti Meatball
₱255.00
Seafood Marinara
₱276.00

Combos

Super Bunch of Lunch
₱294.00
Original Bunch of Lunch
₱209.00
Hero Cheeseburger Double Decker
₱261.00
Hero Cheeseburger Quarter Pounder
₱199.00
Salad, Chicken N Pizza
₱209.00
Hero Classic
₱188.00
Hero Meatball
₱195.00
Chicken N Rice
₱209.00

Starters

Mozzarella Cheese Sticks
₱220.00
Garlic Bread Load
₱103.00
Salted Skinny Fries
₱209.00
Captain's Choice
₱503.00
Buffalo Wings
₱287.00
Garlic Parmesan Skinny Fries
₱262.00
Wings N Rings
₱482.00
Calamari Crrunch
₱398.00

Soups & Salads

Creamy Mushroom Soup
₱104.00
Chef's Choice Salad
₱199.00
Chicken N Corn Soup
₱104.00
Tuna Caesar Salad
₱367.00
Greek Salad
₱393.00
American Salad
₱393.00
Seafood Chowder
₱135.00
Chili Con Carne Soup
₱135.00
Caesar Salad
₱377.00

Drinks

Soft Drink Can
₱93.00
1.5L Soft Drink
₱104.00

Extras

Extra Gravy
₱17.00
Extra Rice
₱37.00
What's The Best Pizza On Shakeys Menu?
The Manager's Choice Pizza is among the best sellers at Shakey's Pizza, combining the meaty goodness of ham, beef, and Italian sausage with the zesty taste of green bell peppers and onions. Another popular choice is the Angus Burger Pizza with its juicy beef patty bits, fresh tomatoes, crunchy onions, and whole cheese slices on top of the restaurant's signature thin crust.
You can also enjoy the Shakey's Special, an all-time favourite. It's loaded with a variety of meat and vegetables that come together to create that distinct Shakey's flavor.
Of course, there's also the classic Pepperoni Pizza, which has generous amounts of pepperoni atop a perfectly cooked crust, providing simple yet sumptuous flavors with every bite. Get the massive 18-inch Grand Slam Pizza, divided into 4 flavors, for those groups who can't settle for just one.
If you've been eating so much of Shakey's pizza that you want to try something a little different, they also have pasta, chicken, salads, and burgers on the menu as well.
Are There Any Pizza Promos?
A wide variety of promos are available on the Shakeys menu, such as family packages and group meals.
If you're dining with a large group, consider having the 2019 Meal Deal, which provides Chicken and Mojos, 2 large thin-crust pizzas, a family-size salad bowl, and a couple of pasta platters along with soft drinks. This promo also comes with a dessert in the form of the restaurant's unique Apple Crumble Pizza.
If you sign up for the loyalty and rewards program known as the Shakey's Supercard, you gain access to special benefits such as exclusive promos, a buy-one-take-one deal for deliveries and take out, discounts for certain dine-in purchases, and a free large pizza on your birthday month.
What Kind Of Menu Combos Are There?
Shakey's is more than just pizza and pasta. They also serve chicken and gravy over rice, chicken wings with onion rings, and double-decker cheeseburgers with fries.
The Hero Meatball puts together scrumptious home-style meatballs and chunky tomato meat sauce on a soft bread roll, sprinkled with cheddar cheese. If you just can't stay away from the pizza, you can get the Salad, Chicken and Pizza combo, which comes with Mojos.
For a more filling meal and a bit of everything, the famous Original Bunch of Lunch combo conveniently offers pizza, chicken, mojos, garlic bread, and spaghetti on one plate.
You can get iced tea or soft drinks served in pitchers so everyone at the table can pour themselves a glass and wash it all down.
Do People Like The Shakeys Menu?
As Shakey's is one of the most popular pizza restaurants in the Philippines, there are plenty of people who absolutely love their pizza. Here are a few we found:
@PHShakeys celebrating my 21st!🎈 pic.twitter.com/bi1uCcQXBs

— Judgie Dy ✨ (@Judgieeeee) March 31, 2019
@PHShakeys 🍕🍗😍❤️ pic.twitter.com/bc2x1MMwyv

— Petpet (@petpetXII) March 26, 2019
@PHShakeys 🤤😍 pic.twitter.com/ZgKc5NIM0o

— Čhën Sorio🎮💫 (@Land_of_dawn_) March 25, 2019
About Shakey's Pizza
Shakey's dates back to 1954 in Sacramento, California, where it was founded by Ed Plummer and Sherwood Johnson. Johnson had suffered nerve damage after a bout of malaria and earned the nickname "Shakey," from which the restaurant's name originated. Over the next decade, the pizza parlor spread throughout the USA with over 270 locations.
In 1975, Shakey's expanded internationally to the Pacific Rim. In the Philippines, it began under the ownership of San Miguel Corporation and the first branch was opened in Makati. It quickly spread throughout Metro Manila, rising in popularity as a great place to hang out, eat good food, and listen to live music.
The franchise was sold to International Family Food Services, Inc. in 1987. By the mid 2000's it had evolved into a mostly fast-food franchise focusing on casual family-oriented dining, and dedicated to serving fresh, delicious, and reasonably priced food.
They continue to grow in the Philippines by adding more and more new and exciting pizzas to make sure the Shakey's menu never get outdone by their competitors.
Talk To Shakey's Staff
Want to talk to someone at Shakey's about their menu or have another questions about their pizza? Send them a message on social media:
If you want to call their hotline dial 77-777 or #77777. Or you can send them an email to [email protected]. Want to find a Shakey's store near you? Use their store locator.
Have more questions about Shakey's Pizza or their menu? Leave them in the comments below.