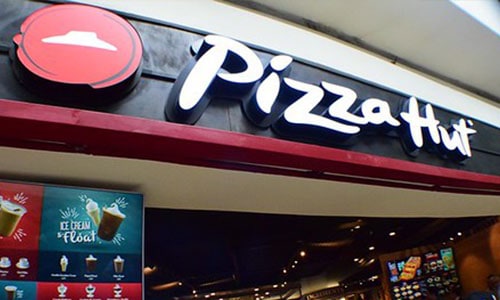 Pizza Hut Philippines has many different tasty pizza combinations on their menu. They also have delicious pasta dishes, chicken, sides, desserts, and more.
Here is the latest Pizza hut menu with prices in the Philippines:
Menu Item
Price

Pizza

Super Supreme
₱309.00
Meat Lovers
₱309.00
Hawaiian Supreme
₱289.00
Supreme
₱289.00
Chicken Supreme
₱289.00
Bacon Cheeseburger
₱289.00
Italian Delight
₱289.00
Bacon Margherita
₱289.00
Veggie Lovers
₱259.00
Bacon Lovers
₱259.00
Cheese Lovers
₱259.00
Cheese Lava Mozza Crunch
₱419.00

Pasta

Fettuccine Alfredo
₱145.00
Bacon Mac & Cheese
₱179.00
Lasagna Classico
₱185.00
Spaghetti Bolognese with Meatballs
₱169.00
Spaghetti Carbonara
₱125.00
Spaghetti Bolognese with Meatsauce
₱115.00

Chicken

Wingstreet (4PC)
₱179.00
Wingstreet (6PC)
₱269.00
Fried Chicken (4PC)
₱355.00
Fried Chicken (6PC)
₱499.00

Sides

Sausage Rolls
₱129.00
Cheesy Pesto Pretzel
₱99.00
Kitkat Pops
₱89.00
Mozza Sticks
₱149.00
Garlic Bread
₱79.00
American Fries
₱59.00

Beverages

16 OZ Drinks
₱55.00
1.5L Drinks
₱95.00
Bottled Iced Tea
₱49.00
Bottled Water
₱35.00
Menu Updates
Pizza Hut have been making pizzas around the world for many decades now, and they've been serving delicious pizzas to Filipinos for a long time as well.
With so many pizza places around the Philippines, it's important they keep their menu fresh and exciting, otherwise pizza lovers would rather check out one of their competitors. So, they are consistently updating and changing their menu to keep their customers coming back.
Here are some of the most up-to-date photos of their menu:
Pizza Hut Promotions
Pizza Hut consistently pumps out a number of promos to keep things interesting. From special combos and discounted pizzas to double pizza and even triple pizza deals, you'll find lots of promos that'll get you a lot of bang for your buck.
Be on the lookout for the coupon codes that they advertise, which can get you freebies and big discounts on your next order from the Pizza Hut menu.
Some promos are exclusive for delivery in the Philippines, such as the Piso Pizza Promo, where you get an additional pizza for just PhP1 after purchasing a large Pan Pizza.
Other promos can be delivered or ordered for carry out, such as the Supreme Hot Deal, which gets you a triple treat of the Hawaiian, Bacon Cheeseburger, and Supreme Pan Pizza at a great price.
Best Pizza on Pizza Hut Menu
The protein-packed Meat Lovers Pizza is a favorite on the Pizza Hut Menu; it's loaded with bacon, beef, ham, seasoned pork, pepperoni, and Italian sausage.
If you're looking for an overload of toppings, the Super Supreme is another popular choice where you'll find the meaty richness of beef, ham, seasoned pork, pepperoni, and Italian sausage combined with the zesty flavors of mushrooms, bell peppers, onions, and pineapples.
The Hawaiian Supreme is among the best sellers with its double layers of ham and pineapple, sitting on a tangy tomato base with lots of melted cheese.
The pizzas on the Pizza Hut menu can also be customized to have special crusts at additional cost, so you can get the Cheese Stuffed Crust for an extra cheesy bite or the Sausage Stuffed Crust for an even more filling pizza experience.
Pizza Hut Delivery Menu
Dial 9-11-1111 in Metro Manila or #11111 in provincial areas to reach the Pizza Hut delivery hotline.
Alternatively, you can place an order through their website if your address can be found in the search bar.
Pizza Hut's delivery is quick and reliable, generally arriving within an hour of placing an order. If they deliver later than the specified arrival time, up to two pizzas in your order will be given free of charge.
You can also place an order in advance from the Pizza Hut menu; just specify a delivery time that's convenient for you. However, for orders that exceed 18 items, orders must be placed at least two hours ahead to give the restaurant adequate time to prepare and deliver the food. If the total bill amounts to more than PhP5,000 a 50% down payment is required.
Do Other Filipinos Like Pizza Hut?
@pizzahutphils for 2 weeks sobrang bland ng dinedeliver nyo, nagrequest ako to put the right amount of pizza sauce, but im not saying na isang tabong sauce ilagay nyo! #LibisBranch #pizzahut pic.twitter.com/kBkhWQ815g

— cyan (@iamCyan) April 28, 2019
About Pizza Hut Philippines
Pizza Hut was founded by brothers Dan and Frank Carney in Wichita, Kansas, in 1958.
Their use of only the freshest ingredients for the Pizza Hut menu and making each pizza fresh to order made their little outlet a huge success and within 18 months, they had six restaurants up and running. Over the next few decades, Pizza Hut would grow exponentially, spreading through the USA and expanding to international markets.
Since its arrival in the Philippines in 1984, it has become one of the country's most popular pizza chains with dine-in stores, delivery units, and outlets in Metro Manila and surrounding provinces.
Pizza Hut is a subsidiary of Yum! Brands, Inc., one of the largest restaurant companies in the world. With over 18,000 restaurants worldwide, Pizza Hut shows no signs of fading away any time.
It can be said that as long as the company keeps serving up their fresh and tasty pizzas from the Pizza Hut menu to Filipino locals, their pizza stores will remain in the Philippines for a long time to come.
Talk To Pizza Hut Filipino Staff
Want to know more about the Pizza Hut menu in the Philippines? Send a message to one of their social media accounts:
Otherwise, you can find one of their Pizza Hut stores using their online store locator or send them a message directly through their website.
For any more questions you may have about the Pizza Hut menu Philippines, leave a comment below.