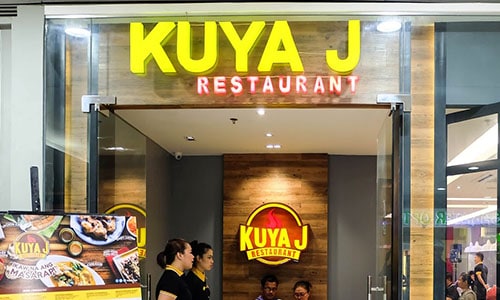 Kuya J has some of the tastiest food you can order in the Philippines. They have delicious chicken, beef, pork, salads, seafood, noodles, rice, and plenty more for you to enjoy.
Here is the latest Kuya J menu with prices in the Philippines:
Menu Item
Price

Appetizers

Kuya J Grilled Scallops
₱245.00
Chorizo Dinamitas
₱225.00
Lumpia Prito
₱175.00

Salads

Copysuey
₱205.00
Pinakbet
₱180.00
Kuya J Lumpia Presko
₱105.00
Relyenong Talong
₱135.00

Soups

Sinigang Na Bangus
₱280.00
Sinigang Na Baboy
₱285.00
Beef Tadyang Sinigang
₱380.00
Pochero Bulalo Tagalog
₱395.00
Kuya J Bulalo
₱415.00

Pork

Sizzling Sisig with Egg
₱235.00
Dinuguan with Rice
₱160.00
Lechon Kawali
₱285.00
Kuya J Crispy Pata
₱549.00
Bicol Express
₱280.00
Pork BBQ with Rice
₱165.00

Beef, Chicken, & Seafood

Kuya J Kare-Kare
₱435.00
Beef Caldereta
₱375.00
Crispy Bangus Ala Pobre
₱285.00
Chicken Halang-Halang
₱285.00
Kuya J Fried Chicken (half)
₱265.00
Kuya J Fried Chicken (whole)
₱495.00
Kuya J Roast Chicken (quarter)
₱175.00
Kuya J Roast Chicken (half)
₱245.00
Kuya J Roast Chicken (whole)
₱465.00
Beef Pares with Garlic Rice
₱160.00
Grilled Tuna Belly
₱350.00

Noodles & Rice

Sotanghon Guisado
₱180.00
Pancit Canton
₱180.00
Danggit Rice
₱195.00
Palabok Solo
₱99.00
Garlic Rice Cup
₱45.00
Garlic Rice Platter
₱140.00
Plain Rice
₱45.00
Plain Rice Platter
₱120.00

Desserts

Kuya J Halo-Halo Espesyal
₱109.00
Kuya J Ube Halo-Halo Espesyal
₱109.00
Kuya J Saba Halo-Halo Espesyal
₱109.00
Kuya J Mango Pandan
₱85.00
Leche Flan
₱70.00
Ginataang Bilo-Bilo
₱110.00

Drinks

Coke
₱66.00
Mango Sago
₱75.00
Sago't Gulaman
₱75.00
Buko Pandan
₱75.00
Kuya J House Blend Iced Tea
₱80.00
Iced Tea
₱55.00
Ice Tea Pitcher
₱150.00
Fresh Calamansi Juice
₱69.00
Fresh Buko Juice
₱85.00
Pineapple Juice
₱85.00
Cucumber Juice
₱85.00
Brewed Coffee
₱70.00
Kuya J Fruit Shake Special
₱95.00
Ripe Mango Shake
₱95.00
Cucumber Shake
₱95.00
Buko Shake
₱95.00
Watermelon Shake
₱95.00
San Miguel Light Beer
₱70.00
San Miguel Pale Pilsen Beer
₱70.00
Menu Updates
There's no doubt Kuya J is one of the most popular restaurant chains in the Philippines. They've got thousands of loyal customer who gladly dine at their locations whenever they can. So, in order to keep them from getting bored, Kuya J constantly update and improve their menu.
That can make it a bit tough to keep up with what's on the menu today. Here are some photos of the most up-to-date menu available:
Kuya J Group Meals
Mealtimes are great opportunities for bonding, and the Kuya J menu capitalizes on this concept with the Salo-Salo group meals. Parties of up to four people can choose from among several sets that showcase some of the most beloved entrees in the Philippines, dishes that everyone has grown up with.
The Salo-Salo 1 set includes one whole Kuya J roast chicken, Bicol Express, grilled scallops, and beef tadyang sinigang. Salo-Salo 2 also features the roast chicken, as well as relyenong talong, beef caldereta, and sinigang na baboy.
Meanwhile, other Salo-Salo sets highlight the Kuya J Crispy Pata, plus other Filipino favorites like beef caldereta, pinakbet, and pancit malabon. All Salo-Salo meals come with four cups of rice and a pitcher of iced tea.
Kuya J Menu Promo
Foodies looking for value for money will be pleased to know that the Kuya J menu regular has fantastic promotions. For Valentine's Day, for example, the "Espesyal-ly for Two" promo had sweethearts feasting on half a roast chicken, grilled scallops, rice, leche flan—all washed down with glasses of iced tea—for a reasonable price.
Promos are sometimes introduced in conjunction with local events. Kuya J restaurants in Cebu, for instance, offered a free Halo-Halo for single-receipt purchases of over PhP1,000 during the Sinulog Festival in January 2019.
Kuya J has also come out with the "Bida Solo Meals" promo. Available from Mondays through Fridays, these delicious and affordable rice meals are perfect for a quick and filling repast. These solo meal combinations available on the Kuya J menu include pork barbecue and chopsuey, sizzling sisig and pancit canton, and crispy bangus a la pobre and pinakbet.
Best Food at Kuya J
The Kuya J menu is filled with comfort food that evokes memories of home-cooked meals in every Filipino. One of the best sellers is the Crispy Pata, or pig trotters or knuckles that are deep fried until the skin is crackling and the meat is tender enough to almost fall from the bone.
Many diners choose to start their meals with the grilled scallops. Drenched in butter and topped with melted cheese and bits of browned garlic, this dish is part of Kuya J's roster of all-time favorites.
For dessert, the Halo-Halo Espesyal offerings are big hits. These cool meal endings feature ice in creamy milk, and other ingredients such as home-made leche flan, sweetened plantain slices, and ube ice cream.
Do Other Filipinos Like The Kuya J Menu?
About Kuya J Philippines
Kuya J opened in 2000 as Ang Kan-anan ni Kuya J in Cebu City. Word of the humble restaurant's exceptional eats spread until it became among the city's top go-to places for great meals.
In 2018, Kuya J Group Holdings Inc. launched a franchising program. Today, what was once an obscure dining establishment in an old house has grown to a network of more than 100 restaurants throughout the Philippines.
An aggressive marketing and advertising campaign, headlined by actor Jericho Rosales, has undoubtedly contributed to the phenomenal growth of the Kuya J menu throughout the Philippines. But the company's focus on exceptional yet budget-friendly Filipino favorites, its warm hospitality and service, and its celebration of the time-honored values of family, friendship, and togetherness remain the roots of its popularity.
Talk To Kuya J Filipino Staff
Want to send their team some more questions about the Kuya J menu? Use social media:
Or you can send them a message on their website. Finally, you can find a Kuya J near you and contact the restaurant directly.
If you still have more questions about the Kuya J menu, leave a comment below.