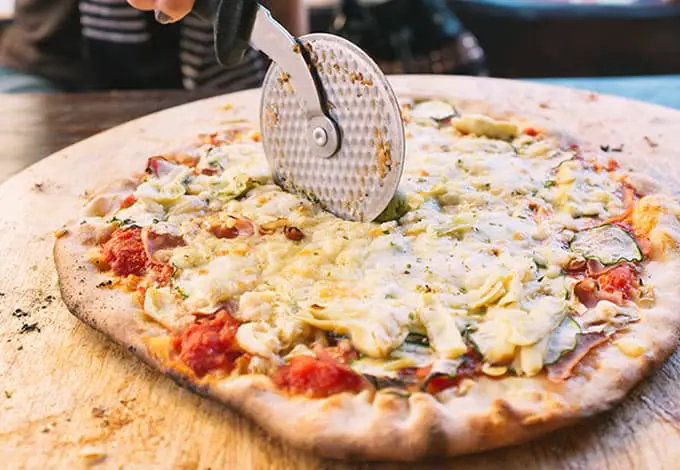 Greenwich Pizza is one of the most popular pizza chains in the Philippines. They have a great range of pizzas on their menu with plenty of delicious toppings to go on top.
Here is the latest Greenwich menu with prices:
Menu Item
Price

Pizzas

Hawaiian Overload
₱240
Ultimate Meaty Overload
₱274
Bacon Overload
₱274
All-Meat Overload
₱274
Veggies & Cheese Overload
₱241
Extreme Cheese Overload
₱241
Pepperoni
₱165
Ham & Cheese
₱165
Ham & Pineapples
₱165

Pasta

Lasanga Supreme
₱113
Tuna Lasanga Supreme Snack Size
₱94
Creamy Bacon Carbonara
₱113
Spaghetti Supreme
₱66
LasangaSupreme Pan
₱512
Creamy Bacon Carbonara Pan
₱512
Spaghetti Supreme Pan
₱292

Group Meals

2 Pizzas & 4 Snack Pasta
₱599
2 Pizzas & 5 Snack Pasta & Large Potato Waves
₱799
2 Pizzas & 2 Pasta & 6 Crunchy Chicken
₱999
2 Pizzas & 6 Snack Pasta & 6 Crunchy Chicken
₱1299
1 XL Pizza & 8 Snack Pasta & 8 pce Crunchy Chicken
₱1599

Solo Meals

Lasanga Chicken Plate
₱165
Tuna Lasagna Chicken Plate
₱165
Chicken Favorites
₱121
Chicken Favorites & Pizza Slice
₱154
Chicken Favorites w/ Lasagna
₱176
Carbonara Chicken Plate
₱165
Spaghetti Chicken Plate
₱149
1 Pce Crunchy Chicken w/ Rice
₱94
2 Pce Crunchy Chicken w/ Rice
₱165

Sides & Dessert

Chicken & Waves
₱296
Potato Waves
₱43
Cheesy Bread Sticks
₱47
Crunchy Fried Chicken
₱281
Dippers
₱50

Drinks

1.25L Drink
₱99
Slush
₱61
Coke Can
₱55

Promos

Overload Trio of Pizza
₱499
Pizza & Lasagna Trio
₱499
Pizza & Chicken Trio
₱499
Overloaded Delicious Duo Pizzas
₱699
Delicious Duo (Overload & Classic Combo)
₱599
Delicious Duo (Classic Pizzas)
₱499
Menu Updates
Greenwich is constantly updating and changing their menu based on the pizza tastes of their local customers. Here are some photos from their latest menu in 2020:
Best Food On Greenwich Menu
Greenwich is known for pizzas that are excessively laid with toppings—they're appropriately called Overloads. The Hawaiian Overload is a best seller, combining cheddar and mozzarella with bits of sweet pineapples, ham, and bacon.
If you're looking for a taste of everything, try the famous Ultimate Meaty Overload. Its premium toppings include onions, bell peppers, black olives, and pineapple chunks sprinkled over six different types of meat, all sitting in a cheesy tomato base.
The Pepperoni Overload provides a pure meat and cheese experience, where each bite is covered in pepperoni slices bound together by stringy cheese. Get the Extreme Cheese Overload for a simple but sensational pizza that's oozing with tasty cheeses such as mozzarella, cheddar, parmesan, and more.
Greenwich Delivery Information
You can get everything that the in-store menu has to offer delivered right to your doorstep by placing an order at the Greenwich menu website or by calling the hotline at #5-55-55. By ordering through the website, you get to choose between paying online, paying cash on delivery, or swiping a card on delivery.
Enjoy pasta dishes like the Creamy Carbonara, a filling dish with mushrooms, smoked bacon, and parmesan cheese, or a classic Spaghetti Supreme with a rich and meaty tomato sauce.
The Lasagna Supreme features layers of beef and cheese covered in a creamy béchamel. The Chicken Favorites—where rice and gravy meet their Crunchy Chicken along with a side of your choosing—are also available for delivery.
Greenwich Menu Pizza Promos
You can get a lot of value out of the Delivery Bundles offered at Greenwich. These usually include two different Overload Pizzas and four to five different pasta dishes or rice meals depending on which bundle you choose.
The smallest bundle includes a Hawaiian Overload and three Crunchy Chicken rice meals while the largest bundle consists of a 15-inch thick-crust Overload pizza, several pasta dishes, and eight pieces of Crunchy Chicken.
If your heart is set on pizza more than anything else, consider getting The Dealicious Duo, which gets you a classic pizza with one Overload or the Overloaded Trio for three 9-inch pizzas.
For a sweet kick, try the Pizza and Lasagna Trio on Greenwich's menu, which includes a Hawaiian Overload pizza, three snack-sized Lasagna Supremes, and Dippers, which are bite-sized fried dough pieces covered in cinnamon and served with a chocolate dip.
Who Else Likes Greenwich Pizza?
Many other Filipino love eating Greenwich Pizza. See some who have shared what they think on Twitter:
@greenwichpizza your solo pizza is 99, your regular coke is 43.. Why the overpriced Coke?? @CocaCola @CocaColaCo pic.twitter.com/fMDBaocCIm

— Maria Lucia (@MariaLucia1113) April 9, 2019
JUST IN: greenwich pizza for Barkada today! @itsenriquegil pic.twitter.com/o6TdVKW5mS

— CORY (@Darling40192070) April 2, 2019
We love greenwich!!!

Thank you for having Quen as your newest barkada.

He's the most handsome member I guess😊#EnriqueForGreenwich pic.twitter.com/vwZLMdjzuz

— snooky_LizQuen1990 (@snooky_LizQuen) March 20, 2019
About Greenwich
Greenwich Pizza was founded by Cresida Tueres in 1971 as an over-the-counter pizza store at the Greenhills Commercial Center.
Over the years, the business grew steadily and made an impression on the local market, growing to 50 branches by 1994. It was then that Jollibee Foods Corporation, the fast food juggernaut of the Philippines, saw the potential in the growing demand for pizza and bought 80% of Greenwich shareholding. It's no wonder the Jollibee menu is so popular.
With more experienced teams handling the business, the pizza and pasta chain grew exponentially. Between new packaging designs, widespread media campaigns, and introductions of new pizza flavors, the Greenwich brand more than doubled its sales with only 53 stores.
In 1999, they introduced their signature Overloaded pizzas to the public. The number of branches grew as sales increased and today Greenwich serves customers at hundreds of stores throughout the nation. Greenwich continues to bring out new pizzas to suit current trends.
Talk To Greenwich Staff
If you want to talk to Greenwich staff about their menu or pizza, send them a message on social media:
Otherwise, you can send an email to feedback@jfc.com.ph. Or call their customer care hotline on (02) 898-7777. Finally, you can see a list of their pizza stores here.
More questions about the Greenwich menu and pizza? Let us know in the comments below.