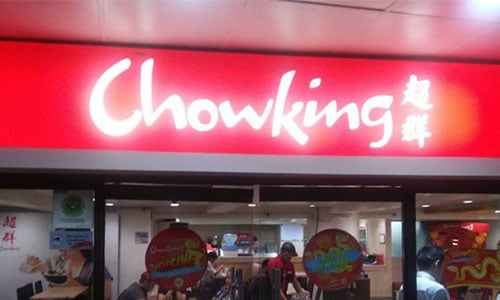 Chowking has plenty of tasty meals for you to enjoy on their menu. Noodles, rice, chicken, beef, pork, seafood, and their delicious Halo Halo dessert.
Here is the latest Chowking menu with prices in the Philippines:
Menu Item
Price

Choa Fan

Pork Choa Fan
₱54.00
Pork Choa Fan with Drink
₱72.00
Pork Choa Fan with Topping
₱94.00
Pork Choa Fan with Tpping & Drink
₱109.00
Beef Choa Fan
₱72.00
Beef Choa Fan with Drink
₱88.00
Beef Choa Fan with Topping & Drink
₱127.00
Yang Choa Fan
₱65.00
Yang Choa Fan with Drink
₱76.00
Yang Choa Fan with Drink & Topping
₱122.00

Chinese Rice Meals

1PC Chinese-style Fried Chicken
₱94.00
1PC Chinese-style Fried Chicken with Drink
₱109.00
Sweet & Sour Pork
₱109.00
Sweet & Sour Pork with Drink
₱127.00
Sweet & Sour Fish
₱109.00
Sweet & Sour Fish with Drink
₱127.00

Lauriat

Chinese-style Fried Chicken Lauriat
₱165.00
Chinese-style Fried Chicken Lauriat with Drink
₱182.00
Sweet & Sour Pork Lauriat
₱171.00
Sweet & Sour Pork Lauriat with Drink
₱186.00
Sweet & Sour Fish Lauriat
₱171.00
Sweet & Sour Fish Lauriat with Drink
₱186.00

Noodles

Regular Meaty Wonton Mami
₱65.00
Regular Meaty Wonton Mami with Drink
₱98.00
Large Meaty Wonton Mami
₱83.00
Large Meaty Wonton Mami with Drink
₱116.00
Pancit Canton
₱76.00
Pancit Canton with Drink
₱94.00

Dimsum

Chunky Asado Siopao
₱43.00
3PC Siapoa Box
₱121.00
4PC Lumpiang Shanghai
₱55.00
4PC Siamai
₱55.00
Chunky Asado Siopao Large
₱66.00

Good For Sharing

Family Lauriat Set A (Chicken, Pancit Canton, Chopsuey, Plain Rice and Regular Softdrinks good for 3)
₱589.00
Family Lauriat Set B (8 pcs. Chinese Style Fried Chicken, 4 orders Steamed Rice, Pancit Canton, Chopsuey, 4 Reg Softdrinks)
₱825.00
6PC Chinese-style Fried Chicken
₱439.00
8PC Chinese-style Fried Chicken
₱549.00
Salt & Pepper Pork Grand Platter
₱310.00
Pork Chao Fan Grand Platter
₱201.00
Sweet & Sour Pork Grand Platter
₱299.00
Sweet & Sour Fish Grand Platter
₱299.00
Beef Chao Fan Grand Platter
₱231.00
Yang Chao Fan Grand Platter
₱268.00
Pancit Canton Grand Platter
₱262.00
12PC Steamed Pork Siomai Grand Platter
₱162.00
12PC Fried Siomai Grand Platter
₱162.00
12PC Lumpiang Shanghai Grand Platter
₱162.00
8PC Buchi Grand Platter
₱132.00
Egg Fried Rice Grand Platter
₱187.00

Side Dishes

2PC Buchi
₱33.00
Chicharap
₱55.00

Desserts & Drinks

Pearl Milk Tea
₱39.00
SuperSangkap Halo-Halo
₱61.00
Coke Regular
₱52.00
Coke Zero
₱52.00
Sarsi
₱52.00
Sprite
₱52.00
Menu Updates
Although the menu at Chowking is already famous because it's so delicious, that doesn't mean it's always been the same. In fact, they're always changing and adapting the menu to keep up with their competitors, and whatever is trending with the locals.
Here are some photos of the latest menu at Chowking:
Chowking Food Menu Philippines
Chowking offers a variety of Chinese-inspired fast food dishes as well as some local favorites. You'll find plenty of fried rice meals on the Chowking menu, as well as dim sum, noodles, and sweets. Classics such as Sweet & Sour Pork or Fish are among their best sellers, along with the Chao Fan fried rice bowls that come with different toppings.
Their Wonton Mami perfectly blends the flavor of local noodles with Chinese dumplings to create a soupy treat. You can try the Pancit Canton for a Chinese dish turned Filipino, where stir-fried meat, veggies, and sauce-coated noodles are tossed together to create a sensational dish similar to chow mein. Their Halo-Halo is a sight to behold for anyone with a sweet tooth and is a must-have for anyone who hasn't tried it.
Chowking Halo Halo
Traditional Halo-Halo is served in either a tall glass or wide bowl to make room for all the ingredients mixed together. The Chowking menu serves their SuperSangkap Halo-Halo overflowing in a tall cup with 14 ingredients stacked on top of each other, making a delectable dessert that's sweet and satisfying with every spoonful.
It starts with a base of shaved ice sweetened with evaporated milk. Then, stacked in any order are the sugar palm seeds, strips of jackfruit and coconut, jelly, pinipig (pounded rice flakes), various beans, sweetened plantains, purple yam jam, and crème caramel. It's topped with a big scoop of purple yam ice cream. You can add or reduce the amount of each ingredient according to your taste.
Chowking Menu Delivery
If your mouth is watering for some tasty food from the Chowking menu, you can get their food delivered by placing an order on their website or by calling the delivery hotline at 9-88-88 if you're in Metro Manila. All of their menu items are available for delivery and some stores deliver around the clock so you can get your food to come to you, whether it's for an afternoon snack or a midnight craving.
Start your day right by getting Filipino classics such as Beef Tapa, Pork Tocino, or Pork Longganisa with a side of fried rice and a fried egg. For a more filling meal, you can get breakfast bowls topped with dumplings. Or try the Yang Chow Chao Fan, where chorizo, ham, egg, vegetables, and shrimp are mixed in with stir-fried rice.
There were a few problems with Chowking's delivery service last year when the National Privacy Commission ordered Jolibee to shut down the Chowking Delivery under concerns over cyber security.
Do Other Filipinos Like Chowking?
@chowking_ph baka naman gusto nyo din mag24 hours delivery. chaofan lang nagpapasaya sakin 😢

— danielle (@heyitsdang) April 29, 2019
Hello. Thanks for acknowledging. Hindi naman sa complaint. Feedback lang. Usually kasi may big orders sila. May limit lang ba yung dapat na sine-serve nila, say 100 pcs lang per day? Madalas talaga wala akong inaabutan. Hassle.

— CharChar Binks (@redjoaktiv) April 28, 2019
@chowking_ph OA sa hirap, parang ayaw nyo painom yung pineapple nyo bwisit kayo pic.twitter.com/GEVTNWFZM6

— Pola Maravilla 🌙 (@polamaravils) April 25, 2019
@chowking_ph supports @prinsesachinita on #OneGreatLoveMUSTWATCH #OneGreatLoveWithChowking Thank you Chow King 😊❤👍 We're so ready for you Kimmy 😘@RegalFilms @RegalRoselle pic.twitter.com/u1W7FhMWk5

— Real over reel (@jackiecuddles) December 26, 2018
About Chowking Menu Philippines
Chowking was founded by Robert F. Kuan in Rotary Arcade, Makati back in 1985. Unfortunately, he recently passed away in 2018. Because of Chowking's success in the first few years of operation, it was very quickly franchised and annual sales were passing the million peso mark by 1991. The chain's growth was aggressive, with 100 stores serving the Chowking menu only a little over a decade after its inception and expanding to international markets.
In 2000, the potential for even more growth was tapped after Chowking became a wholly-owned subsidiary of Jollibee Foods Corporation. By 2008, there were over 400 stores up and running nationwide and nearly 20 international outlets. Through its many awards and exceptional food service, Chowking has become a staple restaurant of the fast food industry in the Philippines and continues to provide affordable, great-tasting meals.
As long as the restaurant continues to serve the Chowking menu to every one that walks through their doors, they'll be sure to remain in the Philippines for a long time to come.
Talk To Chowking Filipino Staff
Want to know more about the Chowking menu in the Philippines? Send their team a message here:
Or, you can use their store locator to find a Chowking near you and contact them directly. Lastly, you can send them a message through their website.
If you have more questions about the Chowking menu Philippines, leave a comment below.