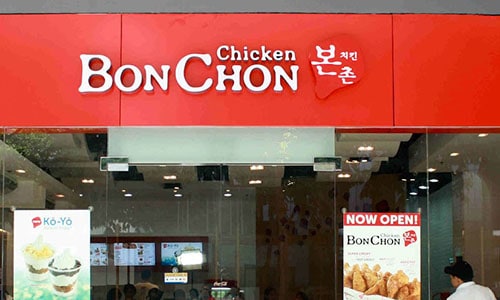 BonChon Chicken is one of the Philippines favourite fried chicken restaurants. Their menu is filled with tasty meals that everyone will enjoy.
Here is the latest BonChon menu with prices in the Philippines:
Menu Item
Price

Chicken

2PC Chicken Boxed Meal
₱172.00
2PC Chops Boxed Meal
₱172.00
Wings Boxed Meal
₱172.00
Double Loaded Sandwich Boxed Meal
₱179.00
1PC Chicken Boxed Meal
₱102.00
Glazed Chicken Fries Boxed Meal
₱172.00
Chicken Chapchae Meal
₱172.00
K-Style Feast
₱198.00

Seafood

Crispy Shrimp Boxed Meal
₱175.00
Crispy Squid Boxed Meal
₱175.00
Crispy Fish Boxed Meal
₱175.00
Fish and Chips Boxed Meal
₱175.00
Seafood Chapchae
₱175.00
Seafood K-Style Feast
₱198.00

Beef

Beef Bulgogi
₱175.00
Korean Beef Steam Meal
₱185.00
Spicy Korean Beef Stew Meal
₱189.00

Bibimbowl

Chicken Bibimbowl Meal
₱175.00
Beef Bibimbowl Meal
₱175.00
Seafood Bibimbowl Meal
₱175.00
Bibimnoodles Meal
₱175.00

Team BonChon

Team BonChon for 3
₱545.00
Team BonChon for 4
₱750.00
Team BonChon Seafood
₱750.00
8PC Team BonChon Box
₱520.00
6PC Team BonChon Box
₱395.00
3PC Team BonChon Box
₱205.00
Seafood Platter
₱410.00

Sides

Chapchae (regular)
₱105.00
Chapchae (large)
₱280.00
Bulgogi Noodle Soup
₱65.00
Jjamppong Spicy Seafood Noodle Soup
₱65.00
Corn and Spinach
₱45.00
Kimchi Coleslaw
₱59.00
Mac n Seoul
₱45.00
White Rice
₱25.00
Crispy Mandu
₱55.00
Seoul Fried Rice
₱49.00
Oriental Chicken Salad
₱155.00
Caesar Chicken Salad
₱155.00
K-Fries (regular)
₱40.00
K-Fries (large)
₱60.00
Flavored K-Fries (regular)
₱45.00
Flavored K-Fries (large)
₱67.00

Desserts

Bingsu
₱99.00
K-Float (regular)
₱50.00
K-Float (large)
₱65.00
Crispy Crepe
₱60.00
Milky Kreme
₱35.00

A La Carte

3PC Chicken Fries
₱110.00
5PC Chicken Fries
₱159.00
Chicken Poppers (regular)
₱79.00
Chicken Poppers (large)
₱120.00
Classic Ko-Dog
₱59.00
K-Float with K-Fries
₱95.00
Double Loaded Sandwich
₱149.00
Snackwich
₱89.00
K-Style 89
₱89.00
2PC Chicken
₱162.00
Crispy Mandu
₱75.00
2PC Crispy Fish
₱165.00
Crispy Shrimp
₱165.00
Crispy Squid
₱165.00
Beef Bulgogi
₱165.00
Korean Beef Stew
₱175.00
Spicy Korean Beef Stew
₱179.00
Chicken Bibimbowl
₱105.00
Beef Bibimbowl
₱105.00
Seafood Bibimbowl
₱105.00
Bibimnoodles
₱135.00
Menu Updates
Even though it's without a doubt that BonChon serves some of the best Korean-style fried chicken in the Philippines, they're always updating and improving their menu to satisfy you and the rest of their customers.
Unfortunately, this can make it a little tough to keep up with their menu. So, here are some photos of the most up-to-date BonChon menu:
BonChon Delivery Menu
From delicious Korean-style chicken and scrumptious seafood to bibimbap and noodles, the same mouth-watering dishes that are available on the BonChon menu in stores can also be delivered straight to your doorstep. Their phone numbers vary by region, but in Metro Manila, you can call 633-1818 for the delivery hotline or place your order through their website.
Their juicy Korean Beef Stew, Spicy Beef Stew, and Beef Bulgogi are just a few of the items that'll keep you coming back for more. You can get Fish and Chips, Crispy Shrimp, or Crispy Squid with steamed rice Chips if you're craving seafood. The main star of the menu, however, is their chicken, which comes in soy garlic, honey citrus, spicy, and crunchy garlic flavors, pairing perfectly with the rice and side dishes.
If you like, you can now also order from the BonChon menu and get it delivered through Grab & Go Eat.
Why BonChon's Chicken Is Delicious
The crispiness that BonChon's chicken is known for is achieved through a double-frying process, which allows it to retain a crunchy texture even when it's coated in the delicious glaze. Combine that process with a very thin coating of batter and you get fantastic chicken that's crunchy to bite and moist to the core.
It's that great balance of taste and texture along with the perfectly captured Korean flavors in the glazes that distinguishes it from the usual fried chicken found in restaurants. Korean food has always been somewhat present in the Philippines, but it was BonChon that brought it out of the sidelines and onto center stage with other large restaurant chains in the country.
BonChon's Chicken Recipe
If you love the chicken on the BonChon menu so much, you might want to make it at home when you can't get to one of their restaurants. Here's how you can do it.
Take one kilogram of chicken wings and season it with a teaspoon of ginger, freshly ground black pepper, and salt. Cover each piece with cornstarch and then deep fry for about eight minutes. Set the chicken aside on a paper towel to drain the excess oil as it cools.
Make the soy garlic glaze by combining eight cloves of garlic, a cup of soy sauce, a shredded half onion, a half- cup of mirin, a half- teaspoon of garlic powder, four teaspoons of brown sugar, and some ginger. Place in a saucepan on low heat until the sugar dissolves. Thicken by stirring in a bit of cornstarch. You can then refry the chicken wings, toss them in the glaze, and sprinkle with sesame seeds.
Do Other Filipino Like The BonChon Menu?
@BonChon was beyond what I expected and more! Seriously the best crispy fried chicken I have ever had in my life. 🙌🏼 I already want to go back for more! 🤤 The other food I ordered did not… https://t.co/1lXaBxCTAn

— Maree Vie (@xtraordimary) October 26, 2018
@Bonchon I have been obsessed with your food for so long😭 I've eaten it throughout my college career and i'm graduating in May. Some Chicken and Potstickers would be amazing during my study session for finals 😭😭❤️❤️❤️❤️

— Anthony (@realantchris) April 22, 2019
First time, definitely not last time. The chicken was delicious! Going to have to make my way down the menu.

— Mandel Dauphine (@Mendo_runs_slow) March 21, 2019
Hehe 😉 look what I saw today #bonchonsingapore pic.twitter.com/SfYBKiCBf1

— JuAeRyung주애령❤️JKS장근석 (@eeljuaeryung) March 20, 2019
About BonChon In The Philippines
BonChon, also known as "my hometown," was founded by Jinduk Seh in the South Korean coastal city of Busan. His passion for food and desire to share his favorite comfort dish to the world led him to perfecting his recipe and expanding his business internationally in just a few years. The BonChon menu was a spectacular success in the USA, so he formed the BonChon Global Headquarters and expanded to Southeast Asia.
In 2010, the chain became an instant hit in the Philippines, bringing Korean-American flavor and fusion to the top of everybody's must-try list. By 2015, BonChon had become available nationwide, with over 80 stores around the country. The brand continues to grow and shows no signs of slowing down, with lines still forming in the stores nearly a decade after its first launch.
Recently, they've started to take on KFC – aiming to be most popular fried chicken restaurant in the Philippines. And with the BonChon menu as it is today, they may just be able to do it.
Talk To BonChon Filipino Staff
Want to learn a bit more about the BonChon menu? Send their staff a message on social media:
Otherwise, you can find one a BonChon store near you using their store locator or send them a message on their website.
For any more questions about the BonChon menu in the Philippines, leave a comment below.