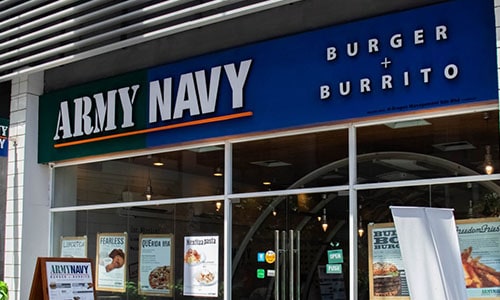 Army Navy in the Philippines has a range of delicious food on their menu. From burgers, sandwiches, and burritos to hard tacos, soft tacos, chicken, pasta, and tasty quesadillas.
Here is the latest Army Navy menu with prices in the Philippines:
Menu Item
Price

Burgers

Burger
₱190.00
Double Burger
₱255.00
Bully Boy Burger
₱295.00
California Burger
₱255.00
California Double Burger
₱355.00

Sandwiches

Starving Sailor - Steak
₱260.00
Starving Sailor - Chicken
₱250.00
Chipotle Crispy Chicken Sandwich
₱210.00

Burritos

Steak Burrito
₱210.00
Chicken Burrito
₱200.00
Carnitas Burrito
₱210.00
P.I. Burrito (Adobo Flakes)
₱210.00
Breakfast Burrito - Steak
₱220.00
Breakfast Burrito - Longganisa
₱220.00
Vegetable Burritoe
₱210.00
Naked Burrito - Chicken
₱225.00
Naked Burrito - Carnitas
₱225.00
Naked Burrito - Chorizo
₱225.00
Naked Burrito - Adobo Flakes
₱225.00

Tacos

Crunchy Tacos
₱180.00
Soft Taco - Carnitas
₱190.00
Soft Taco - Chicken
₱180.00
Soft Taco - Steak
₱200.00

Quesadillas

Steak Quesadilla
₱205.00
Chicken Quesadilla
₱195.00
Cheese Quesadilla
₱135.00

Querida Mia

Plain
₱160.00
Baja Chicken
₱215.00
Charlie Bravo
₱220.00
Querida Mia Vera
₱250.00
Baja
₱180.00

Chicken

6 pcs. Chipotle Barbecue
₱285.00
6 pcs. Classic Buffalo
₱285.00
4 pcs. Chipotle Barbecue
₱195.00
4 pcs. Classic Buffalo
₱195.00
Fearless Fries Chicken
₱195.00

Pasta

Pasta and Meatballs
₱205.00
Carbonara Pasta
₱205.00

All Day Breakfast

Longganisa
₱200.00
Bacon
₱190.00
Adobo Flakes
₱190.00
Classic Pancake
₱120.00
Hungarian Sausage
₱190.00
Tapa
₱200.00
Bangus Tinapa
₱215.00
Tocino
₱190.00

Sides

Freedom Fries
₱90.00
Nachos
₱105.00
Bacon Cheese Fries
₱115.00
Onion Rings
₱75.00
Skin on Fries
₱85.00
Tortilla Soup
₱130.00
Clam Chowder
₱135.00
Churros
₱90.00

Drinks

Libertea Iced Tea (regular)
₱80.00
Libertea Iced Tea (large)
₱90.00
Coca Cola Can
₱60.00
Minute Maid
₱55.00
Bottled Water
₱35.00
Menu Updates
Despite already having some of the best burgers and burritos in the Philippines, Army Navy has to consistently changed update their menu in order to stay in front of any emerging competitors.
With that being said, it can be a little tough to keep up to date with the latest menu. So, you can either read through the menu above, or see some of the most up-to-date photos here:
Best Burgers At Army Navy
Army Navy is famous for its Bully Boy Burger, a gargantuan creation featuring three juicy quarter-pound beef patties, fresh lettuce, tomatoes, onions, mayonnaise, and ketchup, all packed between toasted sesame seed Kaiser buns. It's also available in single-patty and double-patty versions.
The mouth-watering California Burger on the Army Navy menu has a big following. A quarter-pound Angus beef patty—you can upgrade to two patties—onions, tomatoes, iceberg lettuce, cheese, and Army Navy's special California sauce are all packed into a toasted bun.
For a small fee, you can add toppings like bacon, eggs, and jalapeño peppers to any of Army Navy's burgers.
Food On The Army Navy Menu
The Army Navy menu is quite extensive, so there's something for small and big appetites alike. They offer a variety of juicy burgers, plus freshly made and filling sandwiches such as the Starving Sailor Steak Sandwich, the Starving Sailor Chicken Sandwich, and the Chipotle Crispy Chicken Sandwich.
If you're hungry for Mexican food, you can get your fix at Army Navy. They have several variations of burritos, crunchy and soft tacos, and scrumptious quesadillas served with salsa. The Querida Mia line of Mexican pizzas is also a crowd pleaser. The crust, an open-faced quesadilla, is topped with loads of cheese right to the edges, and depending on the type of pizza you order, other savory ingredients like bacon or chicken.
The chicken line-up on the Army Navy menu features Classic Buffalo and Chipotle Barbecue Chicken—which are available in 4-piece and 6-piece orders, and the crispy Fearless Fried Chicken. These can be paired with the classic Pasta and Meatballs or the Carbonara Pasta, or any of the side dishes such as onion rings, nachos, freedom fries, and bacon cheese fries.
The breakfast menu is available all day, and includes classics such as pancakes with whipped butter, as well as traditional Filipino breakfasts such as longganisa , beef tapa, and tocino. These are served with garlic rice, a fried egg, and some atchara.
Army Navy Burritos
Start your day off right by ordering a breakfast burrito from the Army Navy menu, a flour tortilla wrapped around either bits of steak or longganisa, toasted hash browns, and scrambled eggs. There's also the P.I. Burrito, which comes with adobo flakes, Spanish rice, and scrambled eggs. Not a carnivore? The Vegetable Burrito, packed with Spanish rice, onions, lettuce, tomatoes, onions, cilantro, and green bell pepper, has your name on it.
Time to dig into the Naked Burrito for P220! It's delicious! That's the naked truth!
Available in our stores nationwide. pic.twitter.com/4IcjJgJKZ1

— ArmyNavy (@ArmyNavyPh) March 7, 2018
For something a bit different, try one of the Naked Burritos. It's a colorful bowl containing an unwrapped burrito, with your choice of meat—chicken, adobo flakes, carnitas (pork), or chorizo—plus Spanish rice, tortilla chips, tomatoes, lettuce, onions, frijoles, and a wedge of lime.
You can jazz up your burrito by ordering any of the additional toppings available, including salsa, guacamole, sour cream, and cheese.
Do Other Filipinos Like The Army Navy Menu?
About Army Navy Philippines
The first Army Navy store opened in March 2009 in Tagaytay City, and today the company operates more than 70 branches throughout the Philippines. Each store's design is inspired by the Quonset huts used by the military during World War I, and features an open kitchen that allows customers to see how their food is prepared right after they order.
Army Navy has grown to become the third-largest fast casual burger and burrito restaurant chain in the Philippines mostly through word-of-mouth instead of traditional advertising, thanks to its tasty Army Navy menu, premium offerings and outstanding customer service, which keep people coming back for more.
Talk To Army Navy Filipino Staff
Do you still have questions about the Army Navy menu? Feel free to send their team a message on social media:
If you don't want to do that, you can send them a message on their website or use their store locator to find an Army Navy near you.
For all other questions you have about the Army Navy menu, leave a comment below.